Spring is here once again, the bikes are out, and you're getting ready to go pumping. Before you get kitted up, here are the most common 'what to wear for spring cycling' mistakes to avoid.
Springtime is a crazy time. The weather is temperamental, and conditions can change so fast that you feel like you cycled through all four seasons in a day.
That is why you need to have the right kit. By avoiding these spring cycling clothing mistakes, you can better enjoy your time out on the open road.
Top 14 What To Wear for Spring Cycling Mistakes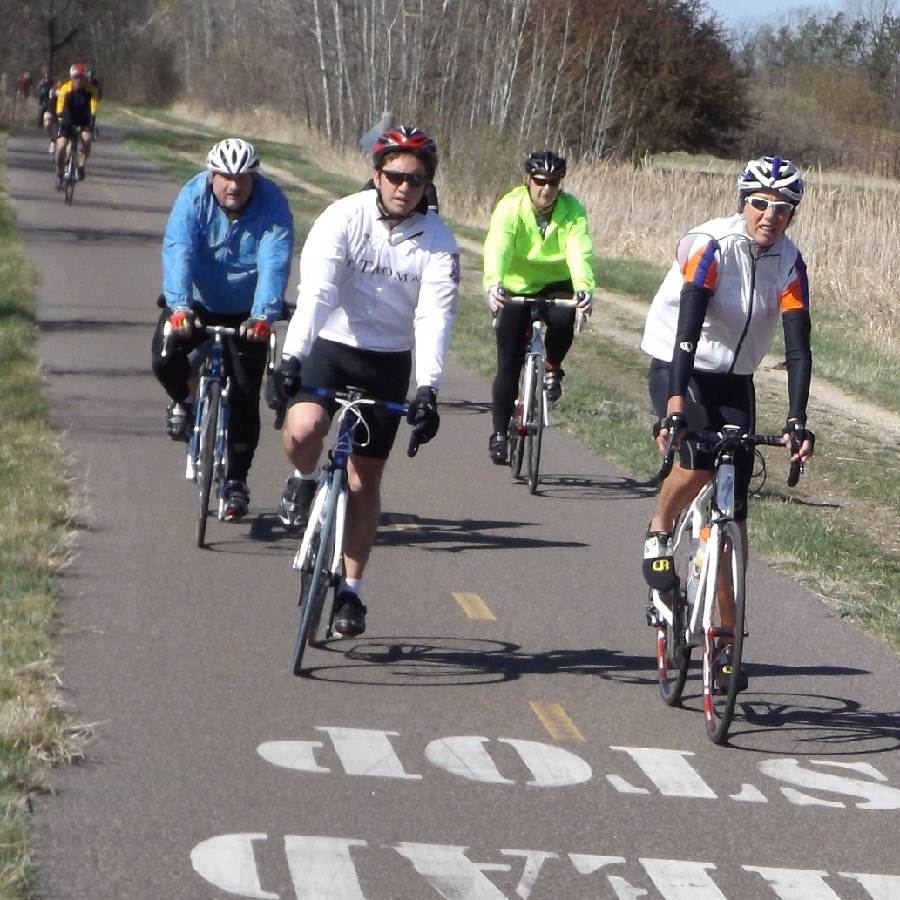 [the_ad id="2060″]
1. Dressing for the Weather
You're starting early in the morning, and there's a biting chill in the air. It's only natural that you dress warmly for the road, right? So you layer up in your favorite winter kit with a merino base layer, hardshell jacket, wool skull cap, and gloves.
These might be great for the morning hours, but what happens when the sun is out and you have been pedaling for hours? You sweat, the clothes get clammy, and even when you may have nowhere to put them even when you take them off.
Another scenario is when you are going out for an afternoon ride. Since the sun is out and the temperature is approaching the '90s, you only wear a cycling jersey and hit the road.
Later in the day, the temperature drops and the wind goes through you like icy needle. You start to wonder why you ever got out of the house in the first place.
These are rookie mistakes, but they are widespread even among experienced riders.
Being prepared is the name of the game when it comes to spring cycling. Here are some common mistakes people make.
2. Not Wearing a Base Layer
Professionals and hobbyists alike are divided upon the issue of whether or not you should wear a base layer in warm temperatures.
A base layer plays a big part in thermoregulation, which is what you want in spring. However, make sure to get the jersey or jacket right. A light wind-resistant jacket will help to keep out most of the wind.
3. Not Wearing Warmers in Warm Weather
A cyclist's worst nightmare, apart from a punctured tube, is probably frozen fingers and knees. No amount of activity seems to warm them up, so you must keep them covered.
Even when out riding in the sun, have some lycra or polyester warmers. You can peel them on and off easily so that when conditions change, you will be protected.
The same thing applies to gloves and headgear. Wearing simple fingerless gloves made of neoprene or some other light material will work wonders for the early morning or late evening rides.


[the_ad id="2120″]
4. Full-Face Helmets
The brave souls who like to wear full-face helmets in the spring and summer seasons never fail to leave a head shaking. While Safety considerations are key, you will want to have as much ventilation as you can get in spring.
You will be better off with a lightweight, perforated helmet and a cycling cap to keep things comfortable and light.
5. Not Dressing For the Weather
Not dressing for spring cycling is just as bad as over or underdressing. Don't
Forget that when the rain hits, the joy of cycling soon turns to misery. Going out unprepared is inviting disaster, which is why the following are cardinal mistakes in spring cycling.
6. Ditching the Cycling Kit in Favor of Casual Clothing
While you don't have to wear specialist clothing every time you jump onto your bike, it is not an excuse to go for long rides without the right gear. Any trip longer than thirty minutes deserves proper preparation on your part.
One of the big mistakes is not wearing proper outerwear. You will see riders in leathers, others in hoodies, and some even in tees only. Not only are they an eyesore, but they also sacrifice a lot in aerodynamics and wind protection.
Even if you are just commuter cycling to work or to get some groceries, there is no excuse not to have a cycling jersey or jacket to throw over everything else. At the very least, it will protect you from the elements and look good on the bike.

7. Shoes
You might be a die-hard clipless pedal fan, or like the freedom of flat pedals in spring. Either way, you should have the right shoes for the road.
Flat pedals compromise on foot security on the pedal, which means that you have to compensate with the right type of shoes. You also need them to be comfortable enough for long trips.
Sneakers with thick rubber soles are perfect because they offer better grip even in wet conditions. You can also wear tennis shoes and flat-soled rubber shoes on these pedals. However, please leave the crocs, flip-flops, and other casual 'shoes' at home.
Running shoes are also not a good fit for cycling because they offer too little muscle balance and padding to make for a comfortable ride.
8. Socks
Socks are a sensitive topic in the cycling fraternity, but we can all agree on one thing: you must always wear them when riding. If you have ever experienced chafed toes tens of miles away from home, you know why this is.
Sadly, lots of show-offs can be found riding without socks in the name of getting perfect tan lines.
Remember that you will sweat while riding, and your feet will move about in the shoe no matter how tight a fit it is. A good pair of socks, regardless of length, will keep you comfortable and warm.
However, keep away from cotton socks. You will ultimately sweat, get rained on, and splash into puddles. Cotton loves moisture, bacteria adores moisture-filled cotton socks, and the result is not pretty for your feet (or nose).
Polyester fabrics work great not only for socks but for most spring cycling gear because they are great at wicking and dry faster. They are also lightweight and easy to clean.
9. Sun Protection
Just because you feel cool doesn't mean that the sun isn't grilling your skin. Remember, ultraviolet rays are your skin's worst enemy when out in the sun. Do not be tempted to get out of the house without some high-quality sunscreen.
Not just any sunscreen. Since you will be sweating badly out on the road, make sure to get options that offer some protection against sweat and rain.
Many cyclists also like to bring other products along such as chamois creams and embrocation. While these make life on the bike a lot easier, they are not necessary.
10. High Visibility Gear
Every winter cyclist wears high visibility jackets because it's safer that way. While you may debate the truth of that statement, nobody wants to be riding out like a ghost with all the cars and motorbikes about.
Some people get complacent in spring, though, especially during the day. The spring equinox brings long hours of sunshine for you to stay longer on the road, but many cyclists fail to realize that you should wear your reflective even then.
Spring is especially dangerous for riding without 'highlighters.' There will be more cars on the road, more cyclists, and perhaps worse riding conditions. Always carry your hi-vis gear if you will be riding in the night.

11.Shoe Covers
Another common mistake people make is that they don't wear shoe covers. They figure that since they will no longer be pedaling through winter slush, there is no need for oversocks.
However, spring needs good waterproof oversocks even more. It is the time when rain falls unannounced, potholes are around every corner, and you are likely to get onto muddy paths at some point.
Oversocks are great for protecting your shoes and socks from the wet and cold, and also keep everything clean and fresh.
12. Biking Shorts, Pants, and Tights
Whatever weather it is, we recommend that you should always step out with padded biking shorts, pants, or tights as the case may be. Padded seats in these items are the chief benefit you get for increased comfort.
Additionally, they fit tightly against the skin, which makes for a comfortable feel. It also improves your aero factor significantly and protects you from the cold.
If you are to cycle in cold weather or are expecting the temperatures to drop, make sure you have your knees covered either in warmers or calf-length shorts. Tights often don't have padding, so you can wear them under your biking shorts.
13. Headgear
Those ventilated helmets are heavenly on hot days. They allow the air to stream through your head and cool you off even on the most strenuous climbs.
Unfortunately, that ventilation can be a curse when the temperatures fall. The same cooling winds now burn with their icy chill. That is why you should always carry headgear of some sort.
A skull cap is a great option that you can wear under your helmet on cold days. Make sure that it is made of merino, polyester, or other absorbent material to help wick away the sweat from your brow.
You can also opt for a balaclava, which is much warmer because it covers your whole head except the face. It provides warmth for your ears, neck, and cheeks so that you can stay warm on particularly chilly days.
14. Biking glasses
Every cyclist has at one time, or the other had bothersome bugs or dust blast into their eyes. Sweat and rain can also get into your eyes and blur your vision.
No self-respecting cyclist will get out of the house without a pair of decent, shatterproof, stylish glasses.
Apart from keeping suicidal bugs and irritating dust out of your eyes, the right pair of glasses will protect you from the sun's glare. This glare protection is especially important in super sunny areas.
The best glasses must be shatterproof. That means even if they break, the glass doesn't disintegrate into tiny little pieces. This way, they help protect your eyes if you have an accident.

What to Wear For Spring Cycling – FAQs

Is a full cycling kit necessary in spring?
Yes, especially if you will be going for long rides. At the least, have the right shoes, biking shorts or pants, a biking jacket, and headwear.
What do I wear when commuting in spring?
Since commuting is not as intensive as endurance cycling, you can get away with wearing a cycling jacket over your work clothing. Still, it would be better to kit up and change at work.
What is better between clipless and flat pedals in spring?
Both are great, but clipless pedals give you more power output and are more friendly to your method. Flat pedals are good for increased freedom, especially when biking on dirt trails.
Should I wear a base layer when spring cycling?
A base layer serves as a thermoregulator. So long as you choose the right material, always wear a base layer to regulate sweating, wicking, and evaporation.
Can you wear a dress and ride a bike?
Yes. Ladies can wear a dress and still ride without exposing their underwear. Any loose dress that extends past the knee is OK. A step-through frame helps with this. However, for anything other casual biking, always get cycling apparel.

Final Thoughts
Spring is the most unpredictable season of the year. That is why there are no hard and fast rules about what you should wear. However, there are lots of things you should not do when getting ready for spring cycling.
Cycling is all about preparing ahead, predicting possible scenarios, and getting ready for them. When getting your kit, you need to be thinking about comfort, safety, and efficiency.
For example, you can't wear a full-face helmet in spring, yet you can't just put on a ventilated aero helmet and go out. You have to think about the cold, the sweat, rain, and other riding conditions.
In the same way, it would be literal murder to step out without cycling socks or proper shoes because it is spring. Some go to the other extreme and wear full-length compression socks. Ouch!
These mistakes on what you should wear for spring cycling cab be avoided easily. Now that you know what they are, you can step out in confidence and beat the spring weather, no matter what it may be.